The unconventional arrival and stark, all-white pantsuit raised eyebrows after the president was recently accused of paying a porn star to stay quiet about an affair.
First lady Melania Trump broke with tradition Tuesday night, arriving at her husband's first State of the Union address separately, choosing to instead share a ride with guests she had invited to her first lady's box.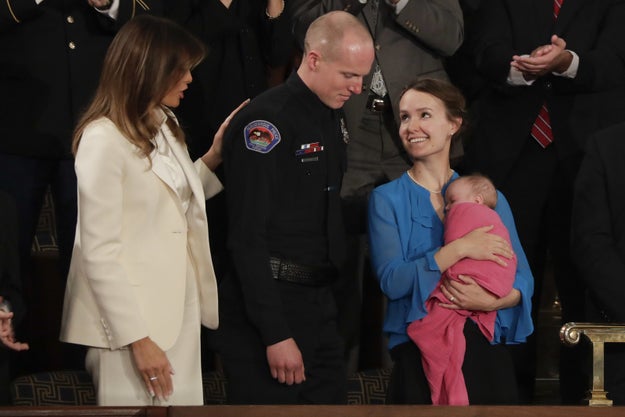 J. Scott Applewhite / AP
The first lady's decision to ride with her guests and not her husband was a gesture meant to honor the attendees "for the true heroes they are," her office said. Trump's invitees include an aviation electronics technician, the parents of two girls killed by MS-13 gang members, an immigration enforcement agent, and members of the military, among others.
"Mrs. Trump is honoring her guests for the true heroes they are," Stephanie Grisham, the first lady's communications director, said in a statement.
Before the event, she hosted a "more intimate meet-and-greet to engage with them on a personal level," Grisham added.
The State of the Union was the first time the first lady has been seen in public with her husband since the Wall Street Journal reported that the president paid a porn star named Stormy Daniels $130,000 before the election to remain mum about an alleged affair. She also abruptly canceled her trip to the World Economic Forum in Davos, Switzerland, instead choosing to spend time at the Trumps' Florida estate.
Last year, Melania Trump and her husband traveled together for his address to the Joint Session of Congress.
After arriving separately, people on social media noted that the first lady's stark, all-white Christian Dior pantsuit resembled the two dozen women musicians who dressed in white during last Sunday's Grammy Awards for a powerful performance in support of the #MeToo movement.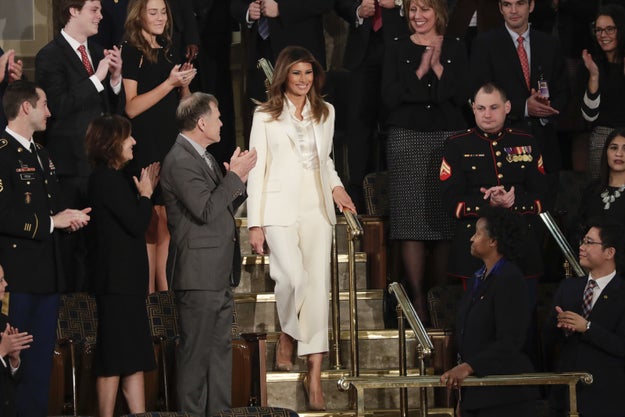 J. Scott Applewhite / AP
The first lady's office did not respond to questions from BuzzFeed News as to whether her outfit was meant to symbolize solidarity with the #MeToo movement.
Grisham previously told the Associated Press that the first lady "does not concern herself with what others think about her fashion and always stays true to herself. Mrs. Trump wears what she likes, and what is appropriate for the occasion."
Several stars also walked the Grammy's red carpet carrying white roses in solidarity with the movements against sexual harassment and assault.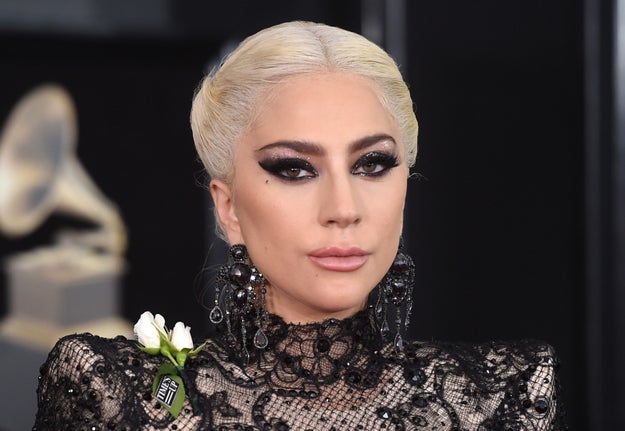 Jamie Mccarthy / Getty Images
"We wear white to unite against any attempts by the Trump Administration to roll back the incredible progress women have made in the last century, and we will continue to support the advancement of all women," Rep. Lois Frankel, a Democrat from New York, said at the time.
This year, many Democratic women in Congress dressed in black in support of the #MeToo and "Time's Up" movements.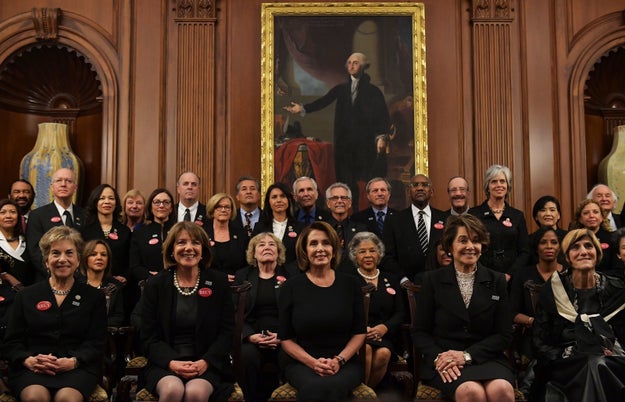 Mandel Ngan / AFP / Getty Images
LINK: Donald Trump Just Laid Out His Vision For The Year. It Will Likely Soon Be Overshadowed.
LINK: Friend Says Stormy Daniels Described Being Chased By Trump In His "Tighty-Whities"